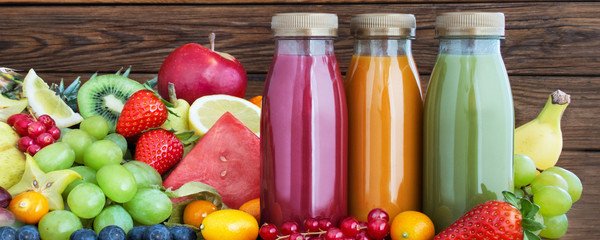 As spring arrives, and warmer weather is on the horizon, it just seems natural that it's also smoothie season. Smoothies are a delicious treat but can also be good for you, too. Healthy smoothie recipes are easy to find and create, making it easy and yummy to drink your nutrition.
Whether you are looking for healthy breakfast smoothies to help get your nutrients, or even help when it comes to fighting fatigue, you can't go wrong with a delicious blend of fruits, veggies, and vitamins. Smoothies are the perfect quick-fix for a rushed morning or a fantastic midday snack. Your whole family can enjoy these nutrient-packed treats, and reap the health benefits as well.
If you are looking for ways to naturally heal and treat your body, you'll love the care you receive at Balanced Care. At Balanced Care, we look at each of our patients individually, getting to know them and addressing their health concerns. We try to always take the most natural approach to health and wellness, and look at the body holistically.
When it comes to fatigue, we can help you address the causes, and find natural solutions to help you battle. We are available to develop a treatment plan that works for you and offer solutions that are effective and healthy.
Smoothies can tackle some of your health concerns. Life today can be hectic and fast-paced. Because of the chaos of life, sometimes we experience fatigue. Fortunately, there are natural ways to fight fatigue. Why not do so with a delicious and healthy meal option?
What is Fatigue?
Many people think that fatigue is the same as being sleepy or tired. It is not. Fatigue is an overall lack of energy and a deep tiredness. It is more intense than the feeling of "sleepy" that we feel. Fatigue is not just being tired but also comes with a lack of energy and motivation.
Also Read: Are You Allergic To The Foods You Eat?
Not getting enough sleep can affect your well-being in many ways. From irritability to downright fatigue, lack of sleep can take a toll. Sometimes mental stress can cause fatigue, other times, physical activity brings it on. A reduction in energy, mental clarity, and even sore and weak muscles are all symptoms of fatigue.
Whether your exhaustion has emotional roots, or physical, fighting fatigue can be a challenge. By taking actions to feel better, you can improve how you feel and recover from fatigue. Drinking lots of water, getting exercise and fresh air, and trying to regulate your body's internal clock are some ways you can get a handle on exhaustion. Another effective way to fight fatigue is through nutrition.
Foods that Decrease Fatigue
You've heard that breakfast is the most important meal of the day. Well, when it comes to fighting fatigue, that's true. Other than a healthy breakfast smoothie, some excellent foods can decrease fatigue.
Fruits and vegetables are perfect for fighting fatigue. Fresh and natural, these nutrient-filled foods will help you feel energized and alert. Bananas specifically can provide the potassium, fiber, and correct amount of carbs to give you a natural energy boost.
Also Read: Healing Benefits of Garlic
Lean proteins like fish and poultry can offer the protein you need to stay healthy and the energy you need. Nuts and seeds are ideal for snacking and provide nutrients and energy. Oatmeal is another excellent option when it comes to looking for a healthy, nutrient-packed, natural energizer.
Smoothie Recipes That Increase Energy and Battle Fatigue
While the foods mentioned above are valuable to fighting fatigue, making a smoothie that's rich in vitamins, protein, and nutrients is a fast and delicious way to fight fatigue. Perfect for a quick breakfast or an after-work snack, these smoothie recipes will help keep you going.
One final note: For those who have problems with dairy products or desire dairy free options, all of the smoothie recipes below can be made dairy free. There are multiple plant based milks and yogurts that will provide the same amount of smoothness and even more flavor and protein.
Balanced Care Blast Smoothie
This smoothie recipe comes highly recommended from the professionals at Balanced Care for their clients.
1 cup unsweetened non-dairy milk (can be vanilla flavored)
1/2 cup berries
1/2 banana – optional
1/2 – 1 cup spinach
1 scoop protein powder
1 tbsp nut butter – optional
1 scoop collagen
Chia, flax, avocado, frozen broccoli are others can be added as well to give you the variety and flavors that appeal to you. Note there is no added sugar in this one as banana's are a perfect way to get the sweetness needed.
Fruit and Yogurt Smoothie
Let's start with the old stand-by. Fruit and yogurt smoothies are easy to make and delicious to eat. These simple, yet tasty smoothies are convenient and healthy. All you need to make the perfect smoothie is yogurt, fruit juice or milk, and frozen fruit.
Keep a variety of frozen fruits in the freezer. Strawberries, blueberries, peaches, pineapples, and raspberries all make fantastic ingredients. You can mix and match to create a flavor you love or stick to the basics. Just blend a ¾ cup of plain yogurt, 1 ½ cups of the frozen fruit of your choice, and ½ banana.You'll have a sweet, filling smoothie to boost your energy.
Also Read: Natural Remedies for Heartburn and Indigestion
Pineapple Green Smoothie
How about a green smoothie to make sure you get enough servings of vegetables throughout the day? This Pineapple Green Smoothiepacks a nutritious punch. For ingredients, you'll need almond milk, non-fat, plain, greek yogurt, one cup of baby spinach, one cup of frozen banana slices, ½ cup of frozen pineapple, and one tablespoon of chia seeds for some fiber, protein, and healthy fats. Blend until smooth, and enjoy.
Chocolate Banana Protein Smoothie
Eating healthy can taste good with this chocolate banana protein smoothie. You'll need to blend one frozen banana, ½ cup of cooked red lentil beans, ½ cup of nonfat milk,and two teaspoons of unsweetened cocoa powder.Once blended thoroughly you'll have a delicious and healthy smoothie to enjoy.
Super Berry Smoothie
Berries are full of rich antioxidants. This healthy super berry smoothie even includes spinach for a serving of greens. You'll need two cups of frozen strawberries, one cup of frozen raspberries, one cup of fresh blueberries, one cup of baby spinach, one cup of pomegranate juice, three tablespoons of vanilla protein powder. Blend well for a tasty, healthy treat.
Also Read: Healthy Soup Recipes
Pumpkin Pie Smoothie
To add a seasonal option for your healthy smoothie recipes, try this pumpkin pie smoothie. With half of a cup of almond milk, one frozen banana, ⅓ of a cup plain Greek yogurt, ½ cup canned pumpkin puree, and ⅛ teaspoon pumpkin pie spice, you really can't go wrong with this delicious smoothie
Let Balanced Care Help
At Balanced Care, we are ready to help you find the solution to your fatigue. From finding the root cause of fatigue to developing healthy, natural solutions for combating it, we will address your fatigue concerns. Using nutrition and a more natural approach, we can help you feel your best.
Contact us today and let us help you fight fatigue and gain your energy back.