Who says you can only have eggs for breakfast?! Don't have time to cook eggs in the morning? Cook eggs for dinner instead! Eggs are packed with protein, B vitamins, vitamin A, and Selenium. Add your favorite veggies to make them extra healthy and filling. The salsa and goat cheese adds flavor while the tortilla chips give it a little salt and crunchiness. If you are trying to cut back on your calories, leave off the goat cheese and tortilla chips. Sticking to a gluten free diet? Choose gluten free tortilla chips.
All the nutrients are in the yokes, so don't leave them out folks!
Eggs for Dinner
Ingredients: (serves 1)
1 tsp olive oil
2 Eggs
4 cherry tomatoes – quartered
1 tbsp chopped onion (not shown)
1 tbsp chopped green pepper
2 chopped mushrooms
1/2 c chopped spinach (not shown)
2 tbsp salsa
6 corn tortilla chips
Optional: 1 tsp goat cheese
Directions:
1. warm olive oil in small sauce pan
2. Add chopped veggies to oil and cook for 1 minute
3. Add eggs to pan (move the veggies out of the spot where the eggs will go to make sure it cooks through).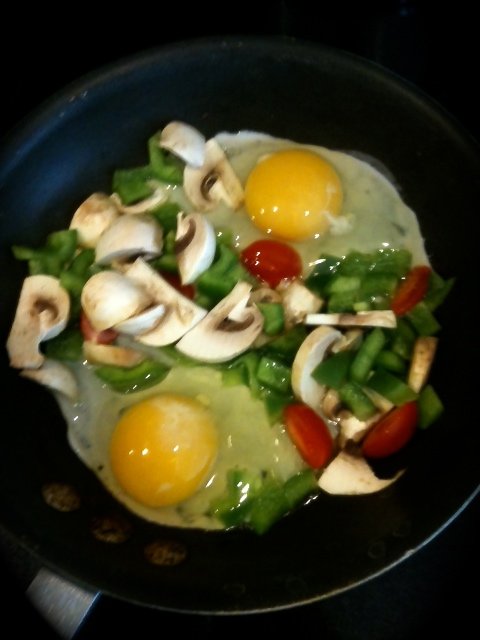 4. Cover until yoke is cooked to your liking (its best if its a little runny)
5. Remove from pan and top with salsa
6. Add tortilla chips to plate and serve immediately
7. Enjoy!