Fall is the season of crisp weather, cooler walks through changing forests, cozy fires, and nourishing, healthy soups. As the season changes, it helps if we change the way that we eat also. One of the best things you can do for your bodies this fall is to add some healthy soup recipes (and soup cooking) to your nutritional rotation. All of us at Balanced Care strive to provide you with healthy options, and our collection of fall recipes gets you off to a good start.
Mind and Body
Cooking and eating soup can help you align your minds and spirits to the changing season. Fall invites us to slow down, enter into the calm that is winter. Soup, itself, is a slow food.
Sure, there are some "fast" soup recipes (see coconut curry carrot recipe below). But you cannot eat soup on the run. You'll need to sit.
The body is already preparing to slow into the rhythms and quiet of winter. Honor that process with the foods that you eat.
Calm and Soothing
The warmth of soup helps calm and soothe bodies as they adjust to cooler temperatures. You'll feel the warmth in your belly. You'll experience the steam on your face.
Steam soothes skin that is likely feeling a bit drier as the humidity decreases and our furnaces kick in. That steam also soothes nasal passages inflamed by drier air or, perhaps, by your first cold of the season.
Grounding and Energizing
By utilizing vegetables that are in season, especially nutrient-dense root veggies and darker greens, you will increase the grounding and energizing powers of soup.
Experiment with nutritional powerhouses like kale and swiss chard, parsnips, sweet potato, celeriac, carrots, radishes, rutabaga, yucca, daikon.
Root veggies and darker greens are full of fiber and antioxidants and packed with nutrients. You can add almost all of these to your healthy soup recipes.
4 Healthy Soups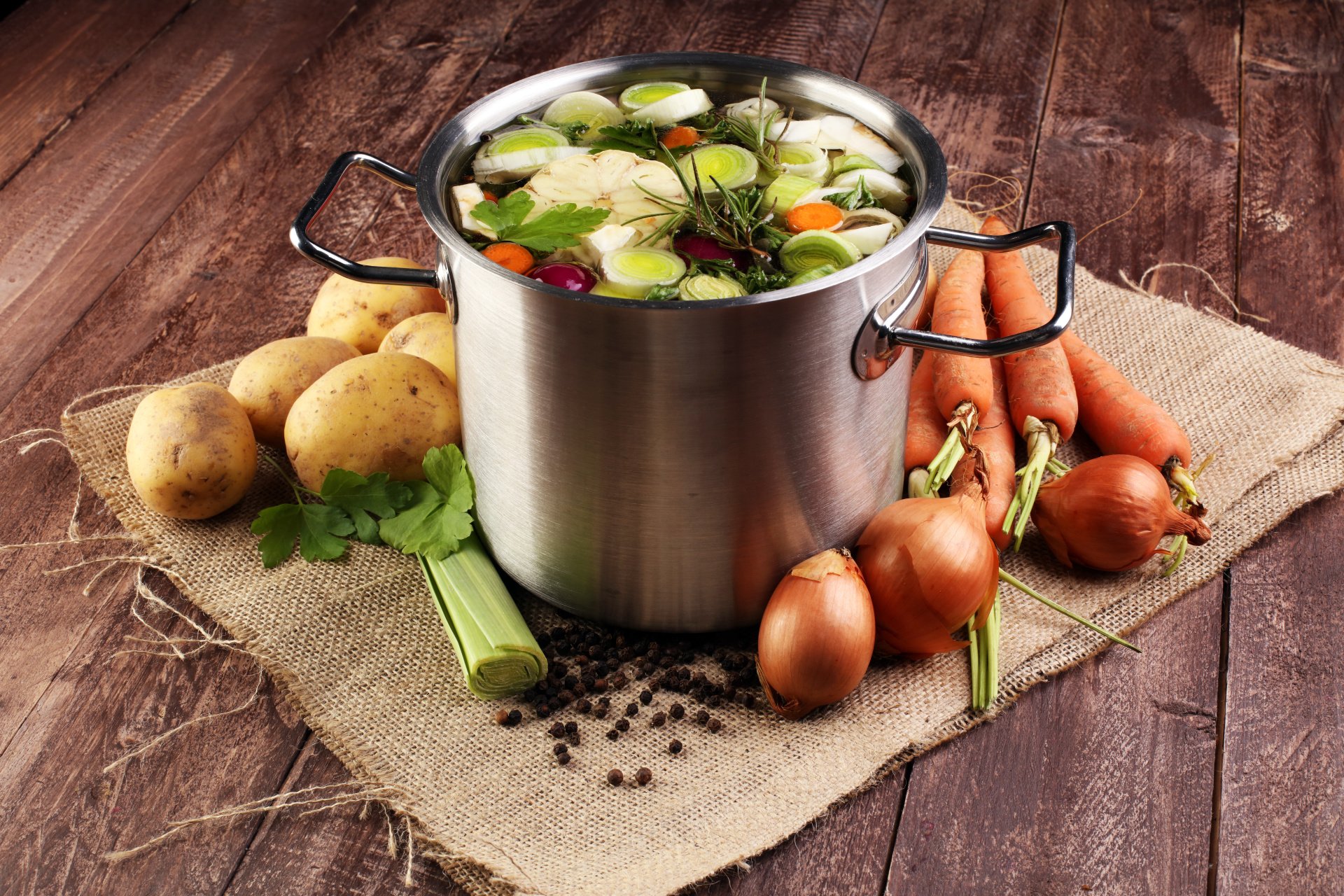 Bone Broth – You can use as a healthy, warm beverage to replace one of your cups of coffee during the day, and carries the advantage of helping you utilize the carcasses from those delicious broasted chickens that every grocery store entices us with nowadays.
Coconut-Curry-Carrot soup as a way of showing you how easily and quickly you can turn carrots into a glamorous, yet healthy soup.
A Moroccan Root Vegetable Soup that will help you tap the nutritional power of root vegetables.
And, finally, a protein-packed Quinoa Chili that your friends and family are sure to love.
Bone Broth
If you've never been introduced to the radically restorative powers of bone broth, this fall might be the time to begin. The great thing about bone broth is that you can store it in individual containers, bring some to work, and microwave it in your coffee cup during the day. Immediate, calming moment.
Likely you have heard people talking about how bone broth is helping their skin to feel smoother, joints to feel better, and guts to feel more settled and healthy. Maybe you've wondered how it differs from regular cattle, chick, or fish stock.
Bone broth is created by cooking the bones much longer than you usually would. This allows you to harvest the massive quantities of minerals and amino acids.
Using your crock pot or your Instant pot, cook your animal bones with vegetable scraps, herbs, and spices for twenty-four hours or longer. Those kitchen appliances will allow you to walk away from the broth during its many hours of boiling.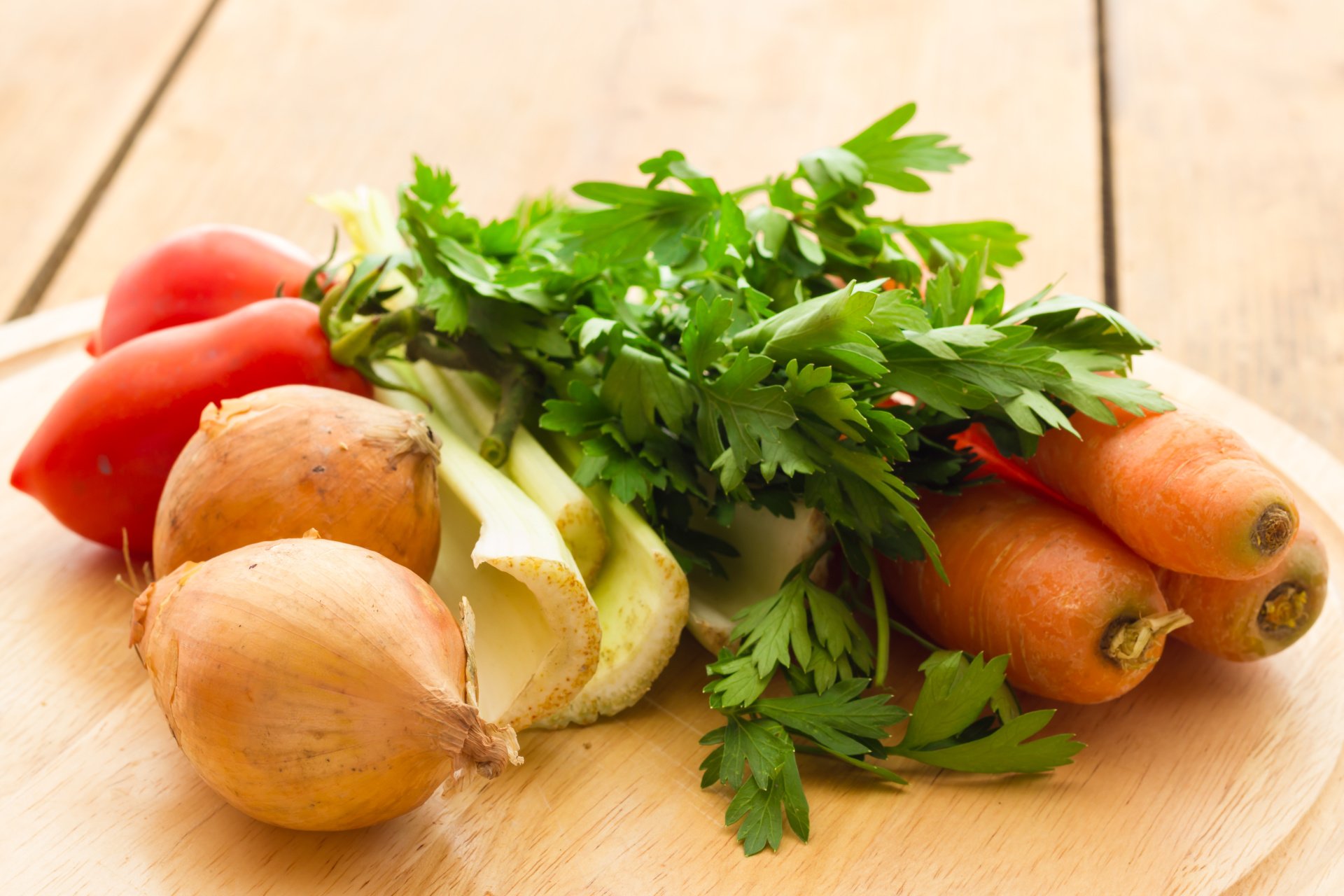 Coconut, Carrot, Curry Soup
Here's a fall recipe that's perfect if your family loves carrots.
Place your carrots in a saucepan with just enough broth to cover.
Add garlic, some grated ginger if you like, curry, a little nutmeg. (exact amounts will depend on how many carrots you're using up.)
Boil until carrots are soft
Dump contents of saucepan into your Blender or food processor.
Add coconut milk to create desired consistency
Salt and pepper to taste.
One more tip? Pour the soup into recycled glass jars (old pasta jars, jelly jars). Freeze in individual servings. You'll be able to grab one before work when you're in a hurry. By the time lunch arrives, your soup is thawed, and you can microwave. Instant great meal.
Moroccan Style Lentil and Root Veggie Stew (Always a favorite healthy soup recipe)
INGREDIENTS:
1 T. coconut oil
1⁄2 pound–local/organic chicken (optional; you can also get protein from the lentils) One small onion
Four garlic cloves
1 T. curry powder
1 T. cumin
1 T. cinnamon
1 bay leaf
1 C. lentils
1 large sweet potato
16 oz organic diced tomatoes
8 c. water
2 Rapunzel vegetable bouillon cubes
1⁄4 c. raisins
1 bunch cilantro (for garnish)
1 pinch salt
METHOD:
Heat coconut oil in a large pot over medium heat. If adding chicken, dice and cook the chicken in the coconut oil until cooked through, then set aside.
Add another dollop of coconut oil to the pan, then add the onions and minced garlic. Saute until golden, then add the spices.
Add lentils, sweet potatoes, fingerlings, diced tomatoes, water, and bouillon. Add raisins here if using.
Bring to boil, cover, simmer for 20-25 mins.
Remove from heat. Garnish with chopped cilantro and season to taste
White Bean Quinoa Chili
Note: Quinoa is a complete protein containing all nine essential amino acids, loaded with fiber which helps lower blood pressure and keeps blood sugar levels steady. It also contains iron and magnesium.
When you have to bring a dish to pass to the next office gathering or neighborhood party, this healthy soup recipe is going to be a hit!
INGREDIENTS:
2 T. coconut oil
1 onion
2 poblano peppers
1 red pepper
3 stalks of celery
4 garlic cloves
2 T. cilantro
METHOD
In a large saucepan, or dutch oven, heat oil over medium heat. Cook chopped celery, chopped onion, chopped peppers. Cook 5 mins.
Add garlic, cook for 3 mins, stirring constantly.
Add spices and quinoa, Stir.
Add water, beans, and bouillon cubes. Bring mixture to a simmer and cook for 55-60 minutes, until liquid reduced by half.
Add in chili flakes and sriracha and cook for 10 more minutes.
Top with some crunchies like pepitas or your favorite crackers.1 c. quinoa 5 c. water
2 T. cumin
1 T. chili powder
1 tsp dried oregano
3 c. cannellini beans
1 1⁄2 c. kidney beans
2 Rapunzel vegetable bouillon cubes
Your well being is our only concern at Balanced Care. Give one or more of these healthy soup recipes a try and let us know if you enjoyed them!